For someone who waxes poetic about autumn at the slightest provocation, I am woefully unprepared for my favorite season. While I have a handful of rather dressy blazers and a quantity of hoodies that my husband loves to side-eye, all of my cardigans are lightweight and too close-fitting to wear with anything other than a camisole, meaning they function more like long-sleeved t-shirts than true layering pieces. Add to that the fact that all my button-ups save one are v-necks rather than a more traditional crew neck, making them unsuited for pairing with the basic cardigans you find at most retailers this time of year, and you can see how days with a 20-degree swing in temperature prove challenging.
Enter CustomFit, specifically the built-in design Stonington. V-neck? Check. Originally designed with a thicker yarn in mind? Check. Lots of stockinette for a classic look and a quick and relatively mindless knit? Check and check.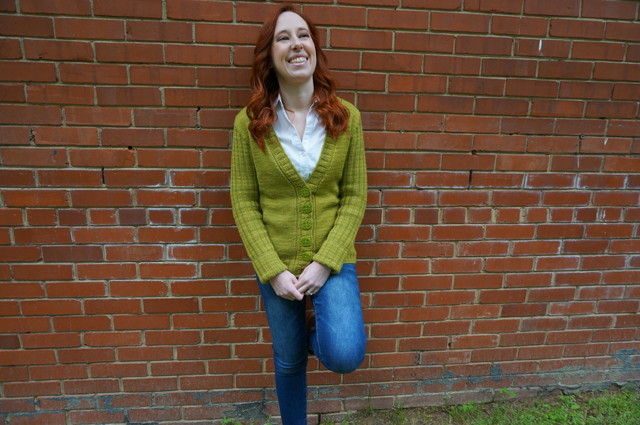 The yarn is Swans Island Washable Wool Collection DK in color Pesto. I got it from my beloved Warm 'n Fuzzy during their summer sale in 2017. Although there were only eight skeins, it looked like they were in the original bag from the wholesaler, so I assumed they were all the same dye lot. They were not, but I did not immediately discover this fact, in part because I didn't even wind the yarn to start knitting until April 2018.
By sheer coincidence, all of the skeins I grabbed for the back of the sweater were the same lot. It wasn't until I was partway through the first front that I discovered I had six skeins of one lot (of a bluer hue) and two skeins of another lot (of a yellower hue).
I ripped back and decided to alternate skeins on the fronts and sleeves. There are noticeable stripes, but I think they're softened somewhat by the semi-solid dye, producing an overall effect that resembles a tonal yarn to my eye. The difference in lots is obvious at the side seam, where the solid back meets the two-tone stripes.
A bigger issue than the dye lots, however, was coming up short on yarn to complete the sleeves. I searched online for more of the dye lot I needed, but the couple of shops I contacted either didn't have the correct one or didn't respond to my inquiry. At least one shop sold out of the Pesto color entirely while I was waiting for responses, increasing the pressure to find something before the yarn was no longer available.
I decided to gamble on a mystery skein from WEBS, which turned out to be a third dye lot. While certainly not ideal, it was close enough to one of the two I was using that I thought I'd go with it.
Unfortunately, even with a ninth skein, I was going to be a little short. (Well, slightly less than nine, as I'd failed to account for the yarn already eaten up by my swatch, lying forgotten in a knitting bag somewhere.)
At this point, you might well be wondering how I could have miscalculated the amount of yarn I'd need this badly, and why I didn't choose a different pattern if I wouldn't have enough. The truth is that CustomFit will estimate the yardage you need based on your swatch size and weight. I just…chose not to trust it. My experience with yardage estimates, much like fabric cutting layouts, is that they're more than generous. I figured I'd squeak in just under the estimate with my nine skeins.
It's at this point, in a bit a panic because many shops no longer listed this yarn at all, that I realized I should have turned to the Ravelry community from the beginning. After searching through other users' stashes, I was able to find not one but two users with the dye lot I needed. About a week later, I had a tenth skein in hand. I ended up using less than one-tenth of that tenth skein, leaving almost a whole skein. Naturally, it became a matching hat—more on that another day!
Even after accounting for the time spent ripping, acquiring two extra skeins, and re-knitting, it's hard to say why it took so long to finish this cardigan—long enough to cross the threshold into a new year. I could gesture vaguely toward blocking, seaming, knitting the band, and facing each side with grosgrain ribbon, but I'm not sure that was the reason? My notes, as usual, provide no clues.
I did spend some time trying to find worthy buttons. I came very close with one-of-a-kind marbled glass buttons at local knitting and sewing store Downtown Knits, but they didn't have enough for my cardigan and weren't able to source more. I looked around at a few other places, and ended up settling for plastic ones from JoAnn that I stitched on by hand. They're an interesting shape, but I may yet switch them out if I find something else I like better.
Overall the fit is good but not really what I was aiming for. Amy's original Stonington was designed to hit at the low hip, but I'd been chosen a slightly higher (but not high hip) hem; I definitely ended up with the same low hip fit she got anyway.
The sleeves also ended up a lot longer than I'd planned. I tend to shoot for about one inch past the wrist; these cover my palms and most of my fingers. I wear them cuffed, which looks okay but isn't ideal.
These length issues are probably a result of the superwash yarn as much as my measurement set. I wet-blocked my swatch but laid it flat to dry. Instead, I should have hung it to dry with clothespins clipped to the bottom edge to simulate the weight of the sweater pulling on itself.
In terms of ease, I chose an average rather than close fit because that's what CustomFit recommends when you plan to wear your sweater over a long-sleeved button-up or t-shirt. That ended up being more than enough ease for comfort, and I'd personally prefer a slimmer fit, especially through the back. Looking at the pictures, I could probably stand to narrow the shoulders a smidge too.
The less-than-perfect silhouette hasn't once stopped me from wearing this sweater, and I really thought it might. I had a hard time choosing pictures because so many of them revealed how the whole thing is a little too long, a little too loose, and a little too straight for my taste. But when it's on, so long as I don't linger in front of a mirror, I really don't notice. It's warm, soft, and comfortable over the shirts I live in during the work week through the fall and early winter. It's a fine alternative to a jacket when it's chilly in the morning but temperate by lunch time.
The pattern is one I could easily see becoming a staple knit up in a bunch of colors. Not for me, mind you—I enjoy variety in my knitting if not my knitwear (I own an embarrassing number of identical v-neck pullovers in different colors), so I doubt I'll make another one. But the idea of getting more mileage out of a knitting pattern is a nice thought. Right? Right.
Here are three more pictures that don't show any useful details of the cardigan itself, but I like them too much not to share them.