After finishing my Colette Zinnia skirt, I had enough of the sage green fabric leftover for one more project. A top would have been the obvious choice, but this sleeveless number is already pretty much perfect for me, I wasn't feeling a boxy tee, and besides, I had a more pressing need: comfortable pants. Since I started working from home, I've been rotating between the same identical pairs of black leggings and my tartan pajama pants; the latter have been worn and washed so many times they developed a hole in the bum. While they waited to be repaired, I decided to see if I could eke out a pair of pants from my remaining mystery yardage.
Remembering that joggers had had a moment (more than five years ago, geez, am I slow to a trend or what?), I did a little searching around and landed on the Itch-to-Stitch Tierras, which had three things to recommend them:
Designed for lightweight wovens
Low-rise fit right out of the virtual envelope
Deep, deep pockets
Bonus: Itch-to-Stitch is based in North Carolina, in nearby Sanford. Hi neighbor!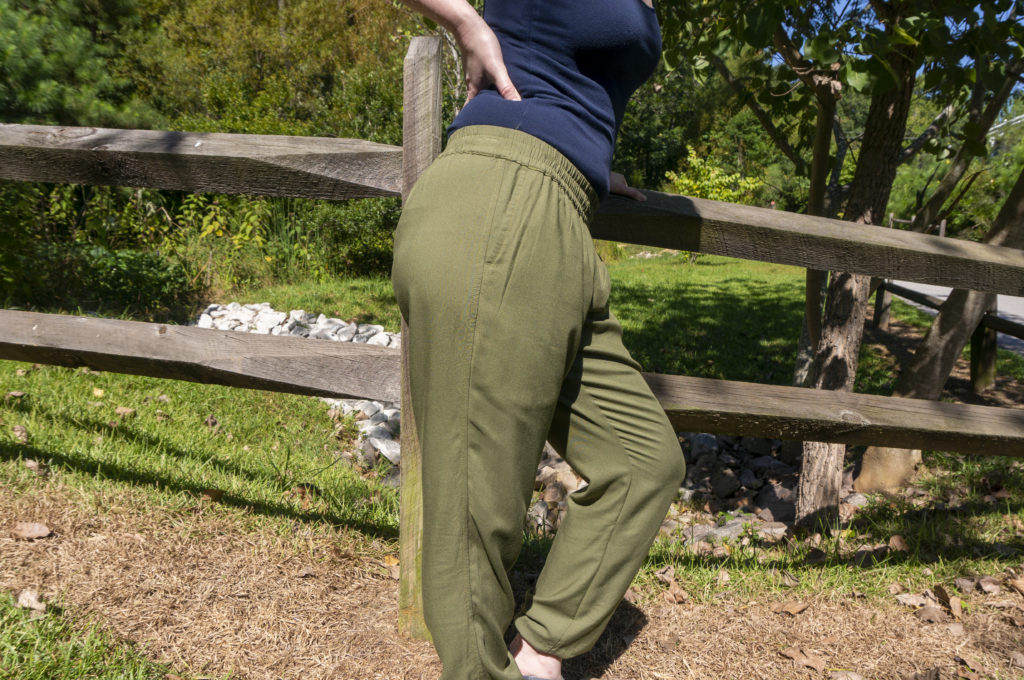 The PDF pattern went together without any issues, and the provided instructions were quite thorough, including—hallelujah!—the finished garment measurements. Based on those measurements, I opted to shorten the inseam by a whopping 4″ and raise the front and back rise by 1″.
Now, I well and truly hopped on the low rise train in high school and I've never looked back, but after comparing the rise measurements to several pairs of stretch woven pants I already own, I was concerned they'd be too low even for my tastes. I'm only 5'2″, so if you're average height or above, definitely check the rise before diving in.
Since my changes were significant, I made a muslin using an old cotton sateen bedsheet. It was the closest match I had to my fashion fabric in terms of weight and drape, but it wasn't an objectively close match. I figured if the muslin came out okay I could wear them as pajamas, and if it didn't, I could still cut the fabric down into pocket bags or handkerchiefs or something.
Let me tell you, the muslin very nearly did me in. Not because anything went wrong—again, the preparation and assembly instructions are clear—but because the fabric was different enough that the practice pants were crazy unflattering. They stuck out at the hips, stood away from my thighs but clung to my calves, and generally looked horrible to me. I wavered mightily, not wanting to waste the last bit of my nice fabric on wadder.
Justin observed that the altered length and rise, the two things I was actually checking on the muslin, were, in fact, good. He persuaded me to press onward, and he was right: the thinner, drapier fabric looks and feels loads better than the muslin did.
I briefly despaired about running out of fabric for both pieces of both pockets, then I remembered I had a bit of cream rayon bemberg leftover from this other sage green project that I could use for the pocket facings, which are invisible from the outside. The bemberg is a nice match in weight for my main fabric and a pleasure to slide your hands into. Hooray for saving scraps and shopping le stash for creative solutions!
I used the prescribed 1.5″ elastic for the waist, but sized down to a 3/4″ elastic for the cuffs since it's what I had on a hand and my slightly wobbly stitching meant that the recommended 1″ elastic would have been a tight fit. For both the waistband and the cuffs I attached the casings to the inside of the garment and then wrapped them to the outside and topstitched down. This is the opposite of what the instructions call for, but when topstitching I prefer not having to worry about whether I'm catching the casing on the inside, so this has turned into a normal adjustment for me.
I stitched buttonholes in the waistband for a drawstring per the pattern, but after wearing them several times I don't think I'm going to bother with one; I don't have another self fabric left for one, and I doubt I'd be able to find cord in the right color. My buttonhole placement is off, which means the topstitching on the waistband meander drunkenly to avoid sewing through them, but I love the overall look of the waistband too much to care. I dig the slightly sporty vibe it gives, I guess?
Honestly, the Itch-to-Stitch Tierras have been such a surprise to me all around. While I was specifically looking for a jogger silhouette, I more than half expected to feel meh about the outcome and never actually wear them. Instead I reach for them several times a week, often wearing them two days in a row. They're also nice enough (in my opinion) that they don't need to be relegated to the realm of house clothes. I personally love to throw them on to pick up takeout and pretend I'm an undercover celebrity.
These pants will continue to see weekly wear as the temperatures slowly cool off. Eventually I'll want to switch them out for the season to something warmer, like French terry. An excuse to pick up the True Bias Hudsons, perhaps?
---
Outfit Details
Camisole: Aeropostale | Pants: Itch-to-Stitch Tierras | Sandals: Naturalizer | Sunglasses: Target | Earrings: Gift/unknown | Bracelet: Gift/unknown