When Justin and I were dating, I bought him a pair of red mittens for Christmas. After we'd gotten married but before I'd started knitting, I crocheted him a hat to match. It was made from Caron Simply Soft, it was solid red, and it was subtly textured, alternating two rounds of single crochet with a round of double (or was it half-double?) crochet. He wore it for a winter or two before he lost it, and it was another winter or two before I plucked up the enthusiasm to make a replacement.
By that time I'd started knitting, but only just, and I wasn't confident in my ability to knit in the round. I didn't want lack of muscle memory to slow me down or uneven tension to spoil the result, so I stuck to the crochet I was familiar with. I also went back to the same yarn and pattern. But because I made the replacement during an interstate drive and didn't have Justin's head handy for reference, I ended up increasing a few too many times, and the finished hat was too big around and much too long, even for his larger-than-average 24″ head. He wears it anyway, but with a sizable cuff at the bottom to keep it in place and out of his eyes.
Now, with more than a few successful knit hats in my collection, I felt the time had come to make Justin the better-fitting—and warmer!—hat he needed and deserved. Needed, because the red hat obviously no longer passes muster in this more experienced maker's opinion, and the 3″ difference in our head sizes means we can't share hats even if wanted to. Deserved, because he's a reservoir of patience and support when it comes to my hobbies and a gracious recipient of anything I make—including less-than-stellar dinners and off-beat jokes—and therefore knitworthy (the lost hat notwithstanding).
So, hot on the heels of Jonah the D&D dice bag, here's a wonderfully woolly, cabled hat for Justin. He picked out the (free) pattern, Brigid Hat and Mitts from Willow Yarns, and the yarn, madelinetosh Tosh DK in Chicory from Warm 'n Fuzzy.
The hat is designed to fit a 21″ head circumference, which is pretty typical for adult hats and thus too small for Justin. To compensate, I added a repeat of the cable pattern but went down a needle size from the recommendation, finding the sweet spot that yielded a hat exactly 24″ around. For more technical details, check out my project page on Ravelry.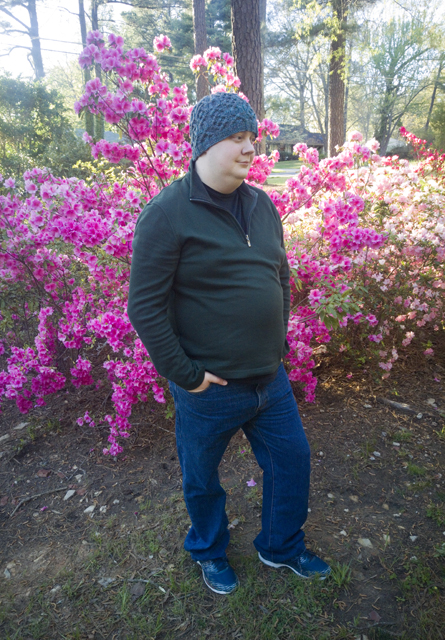 Like all hats, I found this one satisfying to knit because it practically flew off my needles—even after casting on, knitting through the first few rounds of the body, and then frogging and re-starting to get the right size, it only took me two weeks from start to finish. The cables were a little different than ones I'd knit before, because there are places where one crosses under another and then vanishes instead of continuing to travel away, but this kept things interesting for me. And because every cross was two-over-two, they were easy to accomplish without a cable needle and easy to fix if I made a mistake.
Justin's been wearing the hat practically every day since it was finished, and he gets compliments on it any time we go out. He loves to tell people that I made it, and I love him for that. Knitworthy, indeed.