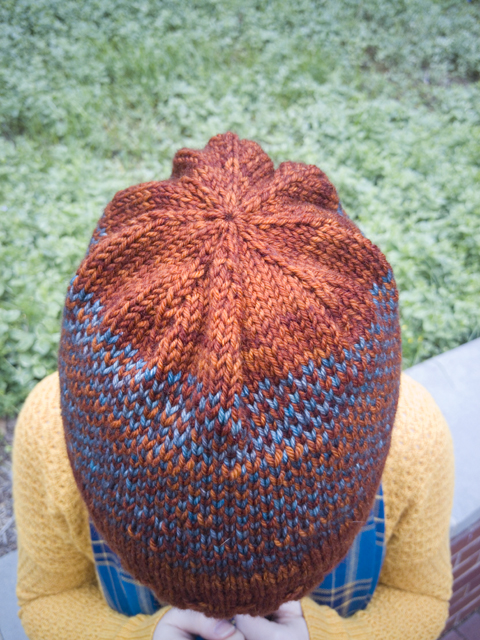 With the leftovers from Justin's cabled hat and my own, I had exactly enough yarn to create a third hat. I'd hoped for as much when I bought the yarns—just ask Rebecca at Warm 'n Fuzzy—but it was a huge relief when my little yarn scale confirmed it.
Rather than knit more stripes, because I've had enough of stripes for a while, I decided that there was no better time than now to try my hand at stranded knitting. Since I knew my yarn was limited, I didn't bother trying to find a pattern, and instead improvised based on my most recent hat and some guidance from Ann Budd's The Knitter's Handy Book of Patterns.
I'll admit I felt a bit of trepidation, which is silly, because I didn't feel a single flutter of anxiety when I first tried cables. Maybe it's because my very first knitting project was cabled, and I didn't know enough to have the slightest idea what to worry about. Now that I've knit a while, I know what to fret about: Tension. Color dominance. Insufficient contrast.
There was nothing I could do about the combination of colors, since I was already committed to using up the yarn, and tension would only be solved with  practice and patience, so the only thing left was color dominance, which I was aware of and could easily look up online. Ysolda has a great introduction to the theory of color dominance on her blog, but the one thing she neglects to mention is the more practical question of how to carry the yarns so that the dominant and subordinate colors aren't switched accidentally. Enter Dianna of Paper Tiger, who helpfully explains which yarn is dominant when knitting with one color held in each hand, both colors held in one hand, and with one color at a time. Thanks Dianna!
I knit continental, and I was tempted to hold both yarns in my left hand to keep things familiar. But I've heard that, once you get used to it, holding one yarn in each hand is quite speedy and prevents the yarn from getting twisted or tangled, so it seemed like it would be worth the effort to learn to do it that way.
It was pretty awkward. As expected, I struggled to keep the tension even. My tight-knitting tendencies are so strong that the blue stitches, which should be dominant/larger, are in several places dwarfed by the background copper stitches. Every time I started to get into the rhythm of alternating hands, I'd notice that things were moving a little more smoothly and promptly lose focus and knit the wrong color or drop the yarn.
But wouldn't you know, it flew off the needles anyway. Anyone who's ever said that there's an addictive quality to knitting colorwork was definitely on to something. Before I knew it, I'd run out of blue yarn and it was time to decrease the crown and cinch it up.
If you're curious about the knitting specifics, you can check out the notes on my project in Ravelry. The only thing of note is the crown, which has eight sections instead of the typical six. This was purely down to the number of stitches I'd cast on at the beginning. It does work, but I think there's a good reason that six sections is the norm: this crown doesn't lie down as smoothly, and it has a tendency to make the whole hat ride up a smidge, which you can see in the close-up above and the two pictures below.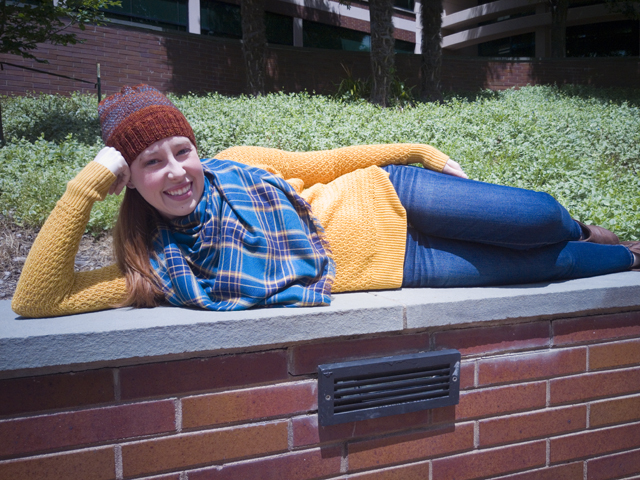 The scarf I'm wearing is also me-made. It's a lovely, drapey 100% rayon in a pattern and colors that I love that I snagged from Jo-Ann several months ago. Sadly, I should have purchased a longer piece than I did, because the woman at the counter did a poor job cutting it, so I lost a fair amount straightening up the edges. Once the corners were squared, though, it was a simple matter of rolled hemming the long edges, zig-zag stitching the short edges, and then removing weft threads to create a fringe on the ends.
There are several suggestions online for sewing a rolled hem. Grainline Studio recommends sewing a line of stitching to use as a guide for pressing, stitching, and trimming before pressing and stitching a second time. Craftsy suggests using a teeny tiny strip of interfacing to encourage the first several inches of the fabric to roll properly. I chose to take Megan Nielsen's advice, which is to sew a few stitches without feeding it through the rolled hem foot, pull the fabric free without cutting the threads, and then use the thread to guide the fabric into the foot and sew.
I can confidently say that, after sewing the edges of this scarf, I am about two iotas better at using the rolled hem foot. Megan's advice certainly helped to get things started, but keeping the hem even as you go along seems to come down to firm and steady tension applied to the fabric and a keen eye to keep it from veering too far into or out of the foot. So, practice.
Luckily, I got a to try my hand at it again on my next make, coming up next week. Today, I'll leave you with my favorite photo from this shoot: